As part of following Chris Colabello's career, I've spent more and more time reading about the Minnesota Twins. I follow many writers (print/online/bloggers) who "talk Twins" on Twitter and it has been fun to experience their fan base compared to the Red Sox market I grew up and live in.
On Twitter yesterday, I saw this tweet from Aaron Gleeman:
New at AG-dot-com: International signing day: Twins spend $2 million on 16-year-old hitters:
http://t.co/dyJXqKGuje
— Aaron Gleeman (@AaronGleeman) July 4, 2013
$2 million dollars on 16-year olds. I had to check it out. If you follow the link above, you'll come across this video.
Here is a GIF of one of his swings:

Here was my immediate response to the swings I saw:
@AaronGleeman the Diaz kids bat… He is late with his timing. That's why he flashes. Clicks on accident. Also why is doesn't show in game.

— Bobby Tewksbary (@TewksHitting) July 4, 2013
There was a part of the writeup featuring some detail on the prospect from Ben Badler (a writer for Baseball America and a really solid follow on Twitter) that really jumped out at me:
Badler writes that "his value is all in his bat" and his "big, lumbering body … could end up along the lines of David Ortiz physically." Having an Ortiz build doesn't mean having an Ortiz bat, but Badler reports that Diaz has "good bat speed and flashes some of the best raw power in Latin America during batting practice." However, he also notes that Diaz "doesn't bring the same loft power against live pitching" and "will have to make adjustments for his power to play in games."
So let's take a look at Diaz compared to David Ortiz to see what kind of adjustments need to be made. I have two angles of Ortiz because the Diaz clip is a angled side clip. The two Ortiz angles should give an accurate comparison.
Full Swings
Diaz

Ortiz (2013)

Ortiz (2011)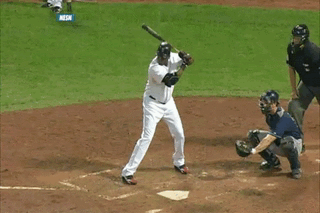 The biggest issue with Diaz's swing is the pattern he is in. His style where he tips the bat is absolutely fine… but he is early with his hand load. This causes his hands to move forward too early in the sequence and disrupts his ability to whip the bat. His swing gets "cut off." Let's go through that process.
During Ortiz's leg lift, he does a couple things Diaz doesn't do. First, his hands lower. Second, before the hands finish the downward movement, his body starts creeping forward.
Diaz raises the bat as he unweights the front foot, then lowers the bat into his leg lift and during that initial creep forward. This means his bat is going to pop up during that forward move, where Ortiz has the bat working back during the forward move. Ortiz and Diaz are going in the opposite direction.
And just a point of clarification. In my tweet I said Diaz was late with his timing. The "late" refers to him being late getting the barrel back. I've also said he is early in this post. With "early" I mean he is early getting his hands back. Same overall problem being described two different ways. I hope that makes sense!
This creates a lot of problems for Diaz. Now as his front foot lands his hands get pulled forward/down. He tries to work the barrel back, but his whole rhythm is off by one step. When his front foot works to the ground, his hands get pulled forward. He has already used up his "hands back" range of motion.
By comparison, Ortiz is able to work the barrel back, create depth, direction and plane "against" his forward move. Some may call this separation, but I don't like the term to describe this. Ortiz is using his weight shift as a power source. Diaz's weight shift is actually cutting off his barrel path.
Let's look at that process.
In most of his swings, his finish reminds me of Jason Heyward the way his front leg kind of "snaps." This is not a compliment. He isn't leveraging his barrel path against his weight shift, he doesn't have a clean whip of the barrel, so he has to try to create bat speed and power late in the swing. That's where the "snap" look comes from.
And for those flashes of "some of the best raw power in Latin America" for Diaz? That's what happens when his timing clicks. When the pieces of the swing line up correctly. My concern is that Diaz probably doesn't have intent to have the proper timing and sequence. Perhaps he'll find it over time with more reps. The coaching he receives will matter greatly. If they try to quiet him down and promote that "early load" then it will limit his ability to be successful throughout his career. For the Twins and their $1.4 million invested, I hope so!