I was watching the Golf Channel this morning while starting my day and Fred McGriff was on the show. They have baseball players on from time to time – especially as the start baseball season nears. So they have a brief little segment about the baseball swing where McGriff was tasked with teaching one of the hosts how to swing a baseball bat.
There is a ton of baseball instruction that calls for a downward swing. I think a lot of the time, coaches are trying to correct hand eye coordination problems by making swing mechanic adjustments. For that, please check out this video.
For a lot of other coaches – and Fred McGriff – they are promoting swinging down in an effort to hit the ball up. They aren't wrong that you can hit the ball UP when you swing DOWN. However… you can also hit the ball DOWN when you swing DOWN. Which he did in the video above.
Here is Fred McGriff's game swing: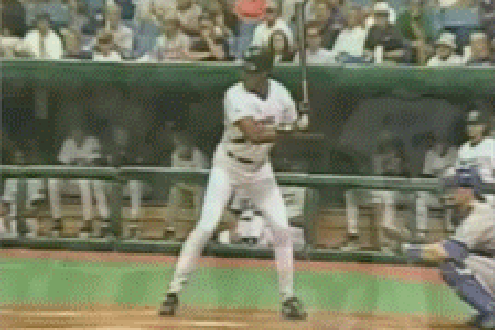 What nobody seems to talk about is how ball flight is a result of contact relative to swing plane. I hope I didn't lose you there…
If you swing up, it doesn't mean you will automatically hit the ball up.
If you swing down, it doesn't mean you will automatically hit the ball down.
Where you hit the ball on the bat is going to have a huge effect on whether or not the ball goes up or down.
It seems logical but we have so many people get so worked up over this. And this is my big issue: When you teach kids to swing down, they actually, literally swing down.
This Zepp screenshot was sent to me by a local softball coach tonight:

Negative TWENTY ONE degrees with the angle of attack. This is severe! Any guess as to what this hitter has been taught her whole life?
I know this is an extreme example, but it is common. And five degrees down is much worse than 5 degrees up with angle of attack. And there seems to be this resistance to teaching hitters what is actually happening. There's a big part of conventional wisdom that values feel over reality. Why can't we do both?? Do we not trust hitters to learn and think and feel on their own? What is this doing to their long-term development??
I asked Josh Donaldson to share a quote about his take on the topic. Josh is a guy who takes pride in understanding the swing. He is on the other side of this debate in that he wants to fully understand the swing so he can be deliberate about what and how he practices his swing.
So here's what he said:

So on one hand we have people preaching swing down to hit the ball up and create back spin. On the other we have people who believe swinging up on the ball – even Ted Williams promoted swinging slightly up. Further, Josh is providing a very valid reason about WHY he wants to be swinging upward vs downward. The new 3D swing technology like Zepp and Diamond Kinetics shows that the most effective swing is slightly upward. Here's a swing of Mike Trout on Zepp… slightly up at contact. (Where the red streak occurs in the swing path.)
So here's what I've done. I have two videos from a few months back that I hadn't taken the time to chop up. There's over 20 minutes of video content here and I've tried to dig into this topic in a simple yet detailed way. If you have some time to learn about the swing and are looking for ways to really help hitters become more accountable about the work they put in, then you'll love these videos!
Part 1

Part 2

If you know a player or coach who could benefit from this info, please share it with them!